Music
Baltimore was once a major hub of jazz music and dancing. Its history, combined with the rapidly growing modern scene, has led to a wealth of talented musicians and variety of Jazz styles. Band information coming soon.
From the moment they were formed to be the Louisiana's House Band, the Zach Serleth Swingtet has set out to reinvent how audiences experience swinging jazz music. The Swingtet is a tight-knit outfit consisting of some of the areas best swing players with an emphasis on a strong groove, tight horn parts, and the experience of joy through music and dance.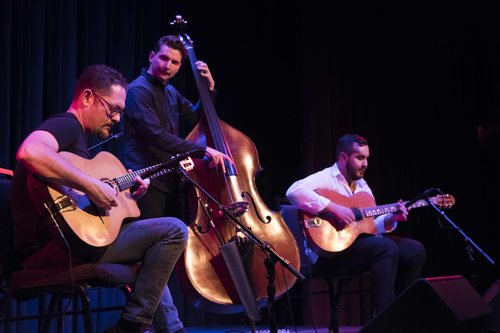 The Hot Club of Baltimore
The Hot Club of Baltimore performs inspired arrangements of the Django Reinhardt repertoire, French songs, and vintage Jazz.
The ensemble boasts a variety of configurations including an instrumental trio of two guitars and upright bass, a classic quintet with violin, a late 40's "Django in Rome" instrumentation adding piano, drums, and horns, and a Django Big Band, which emulates the sound of the early 50's when Reinhardt performed with Duke Ellington. The group often features captivating vocalist Alexis Tantau who sings in her native Occitan language as well as songs in French and English by Edith Piaf, Eartha Kitt, Charles Trenet, Maxine Sullivan, Jacques Dutronc, Ella Fitzgerald, Peggy Lee, and Henri Salvador.
Mimi is known for many things—her flair, dance analogies, cat obsession, and being the "speed demon of Frim Fram." She once DJed a whole set with no music below 170 BPM, which makes her the perfect candidate for DJing Balboa for an extended period of time. Her music collection consists of many amazing handpicked small combo songs that she cannot play for a regular Lindy Hop crowd. As a regular swing music DJ in New York City, she brings a wealth of experience and enjoyable music wherever she spins. She also moonlights as a dance instructor, performer, choreographer, and cat people uniter.
Jeff (DJ Jeffcat) is a dancer, photographer, and DJ in NYC. He loves the small combo sounds of the Benny Goodman Sextet and Artie Shaw's Gramercy Five just as much as he loves the big band sounds of the Count Basie Orchestra and almost anything Lionel Hampton does. He spends way too much time trying to convince everyone to listen to the clarinetist Edmond Hall. If you're reading this, you should listen to Edmond Hall.